Insert the hero image below this line.
Earlier this year, American Idol viewers were introduced to season 16 contestant and artist, Trevor Holmes. Still singing his way through hearts, we caught up with the singer/songwriter who opened up about life after the show, music, style, the love he has for L.A., and more.
ENTER THE LEFT SPLIT IMAGE BELOW col-md-2
ENTER THE RIGHT SPLIT IMAGE BELOW col-md-2
Tell us about your life growing up in Southern California and what makes this state home to you.
Growing up in Southern California was the greatest gift I could have ever asked for. I was a really active kid. I loved skateboarding, snowboarding, wakeboarding, surfing, etc. I've actually even snowboarded and surfed all in the same day. Not too many places on Earth exist where you can accomplish that. As far as the music goes, I grew up honing my skills as a performer on the streets of Venice Beach.  For years, I would bask on the boardwalk every day during summer. Venice Beach is a melting pot of so many arts and cultures—it's where people from all different social and economic groups come together and enjoy arts and the ocean. I feel so blessed to have spent my youth experiencing such diverse culture and art.
Insert the full width image below this line.
When did you first fall in love with music and how does it personally affect you?
I don't remember the exact moment that I fell in love with music. But I don't think that's how it happens, anyway
s
. I think when most people look back at their childhood, they can remember certain songs and moments that make for great memories. I can remember driving to school everyday in the passenger seat of my mom's jeep, singing along to all of her NOW CD's! Those were some of the best times of my life. It's funny how a song can instantly bring you back to a past moment in your life.
Who are some of your musical influences?
I have a very eclectic group of musical influences. I'd say some of my indirect influences would be Sublime, Bob Marley, Elton John, and Ed Sheeran. Some of my more direct influences would be Thomas Rhett, Brett Young, and Jack Johnson.
ENTER THE LEFT SPLIT IMAGE BELOW col-md-2
ENTER THE RIGHT SPLIT IMAGE BELOW col-md-2
Having been a contestant on the latest season of American Idol, how has that experience been a life-changer for you?
Well, the first most obvious change was getting recognized everywhere I went! That was, and is, such a trip. It has also opened so many doors for me in the entertainment world as a whole. I've been able to write with so many talented writers and producers, and I've been getting more opportunities in the acting/modeling world. It's been a major blessing for me.
You recently dropped your single, "Walls," which currently has over 400,000 streams on Spotify. What inspired you to write it?
"Walls" was inspired by a beautiful woman named Sierra. It's simply about meeting a person that has their guard or "walls" up because they've been hurt. But in spite of this barrier, you're not going to give up on this person because they're worth the fight. They are worth the love.
Do you have any other personal passions and or professional aspirations?
I absolutely love surfing, camping, and traveling. I'm still trying to figure out how to get paid to do these things! As far as professional aspirations, the main goal in my sights right now is to sign a record deal with a major label that gets and loves what I'm doing. I also want to tour around the world and play for and connect with as many people as possible.
Insert the full width image below this line.
When it comes to must-haves, we know our Venice Burnout tees are on the top of your list. What is it about this collection that makes it a wardrobe staple for you?
My style has always been a pair of jeans and a t-shirt. That being said if you're going to keep it simple, your outfit has to offer something special. For me, that's the fit, quality, comfort, and style. Believe me when I say I have searched far and wide for the perfect shirt, and nothing has compared to Lucky Brand shirts–more specifically, the Venice Burnout Tee. This shirt just has this "look cool without having to try" feel to it. I can't say enough great things about it. It's ironic, too, because Lucky Brand was established in the year I was born (1990) and I have such a history with Venice Beach. I'm somewhat of a Venice Burnout myself.
ENTER THE LEFT SPLIT IMAGE BELOW col-md-2
ENTER THE RIGHT SPLIT IMAGE BELOW col-md-2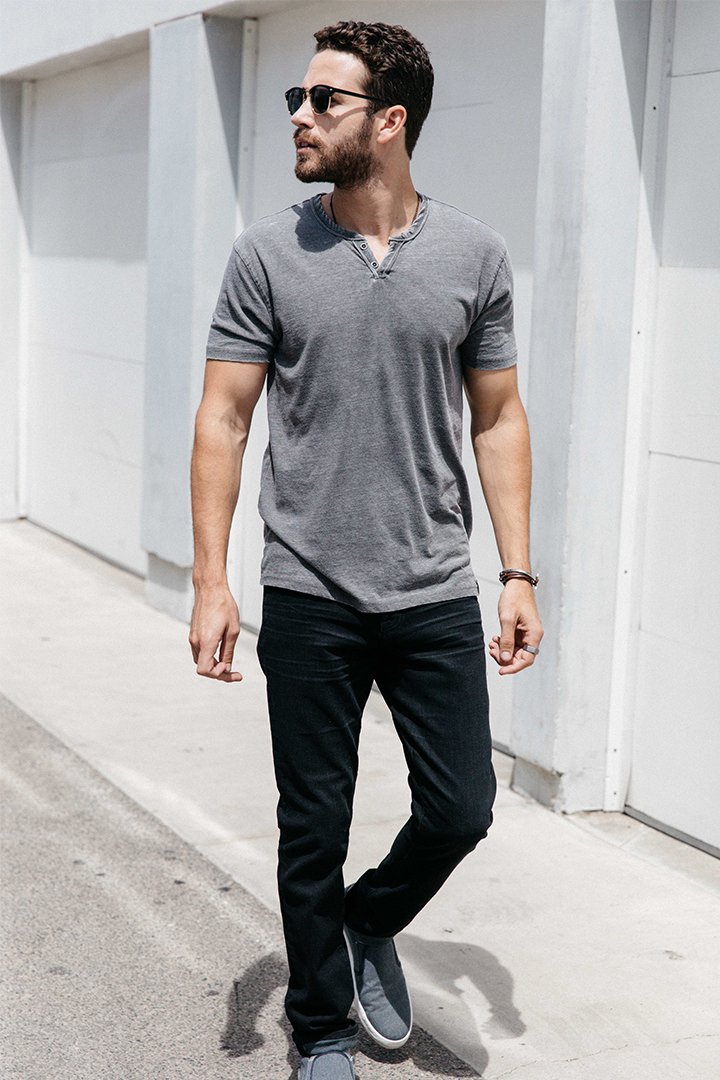 What does the rest of 2018 look like for you? Any major plans you can share with us?
The rest of my 2018 will be spent writing songs and getting my EP together and ready to release! It's a very exciting time for me.
Insert the full width image below this line.
Lastly, in what ways do you personally feel lucky?
I feel lucky every time I open my eyes in the morning and have my good health, as well as friends and family that love me dearly. I feel lucky to have been born in such a beautiful state and country. And last but not least, I feel lucky to have the privilege of working with my favorite brand...Lucky Brand!
Shop Men's New Arrivals
Lucky Insider Home