Insert the hero image below this line.
If you're from L.A. or travel here from time to time, then it's no surprise that Venice, CA is a go-to spot. From the beach to the skate park, there's never a dull moment. One of the most exciting things about the area is the people that you meet or come across who effortlessly make their presence known. We caught up with one of L.A.'s talented and local skaters, Leandre Sanders, to get the 411 on his life on wheels.
How did you get started skating?
My father got me my first skateboard at a thrift store here in Venice. Ever since then, I couldn't let go. I just had to have a board with me.
Growing up, did you look up to any influential skaters?
Growing up, I really didn't know any skaters' names. But now, I have a couple of skaters that I look up to.
Insert the full width image below this line.
What's life like living in Venice, CA?
Living in Venice can be good or bad. It's honestly a blessing to have a cool beach that allows me to skate and meet lot of other skaters.
Insert the full width image below this line.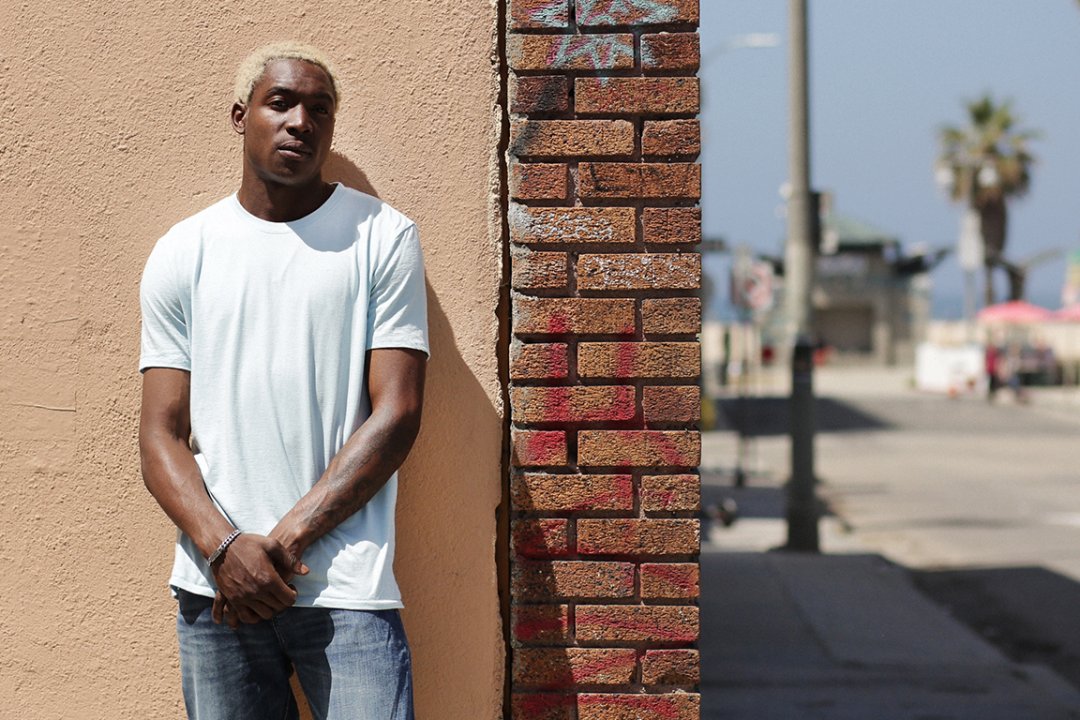 You're pretty well-known around the Venice area. How does it feel to have so many people recognize and look up to you?
It's a great feeling knowing there are kids out here trying to skate, and it's a blessing to have those who believe in me.
Tell us about one of your most memorable skate sessions. 
Go Skateboarding Day 2012 in Venice when I won so much stuff!
What's your relationship like with your dog, Gucci?
My relationship with Gucci means the world to me and my girlfriend, Katherine. We got Gucci on our birthday, which falls on the same day!
Recently, you had the opportunity to test-drive pieces from our Venice Burnout collection. What are your thoughts on it?
The shirts are so comfortable and soft.
What advice would you give to aspiring skaters?
Stay positive and stay in school. Do what makes you happy and live the life you always wanted.
Insert the full width image below this line.
Lastly, how do you personally feel lucky?
I personally feel lucky to be on this Earth and to have this skateboarding talent that I can share with other people who are willing to learn.
Shop Men's New Arrivals
Shop Venice Burnouts
Lucky Insider Home