Inspired by the spirit of their home state, we caught up with California natives and lifelong friends, Mike Morrison and Seth Gibson, of Ventura's MadeWest Brewery. The guys shared details about their handmade craft beer, personal style, and thoughts on our CoolMax denim.
ENTER THE LEFT SPLIT IMAGE BELOW col-md-2
ENTER THE RIGHT SPLIT IMAGE BELOW col-md-2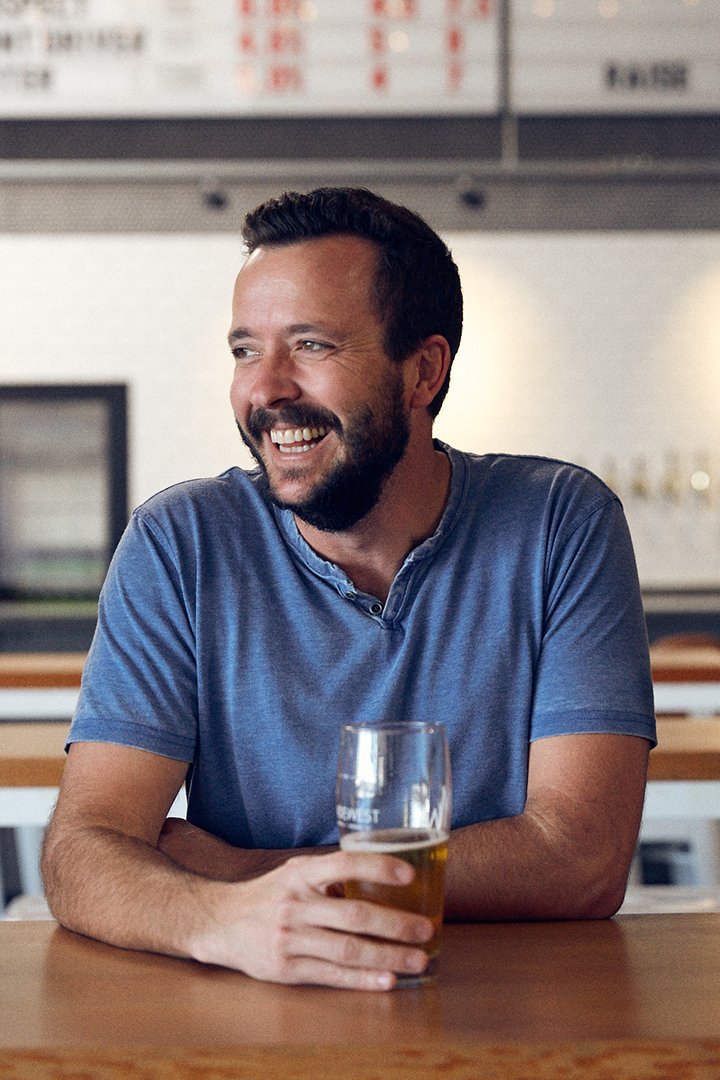 How did you get started in the craft brewing business and what do you love most about it?
Mike (Founder, Head Brewer): My passion for craft beer and homebrewing got me into the business.  I love the camaraderie within the industry.
Seth (Founder, CEO): I entered the craft beer business in a different way than most. While I have always enjoyed beer (since I was 21 of course) it was my longtime friend Mike Morrison's love for craft beer that brought me into the industry. We combined our talents to form MadeWest and haven't looked back. I have since fallen in love with the industry as a whole as everyone we have met along this journey has been so helpful and genuinely nice.
What makes Ventura, Ca the perfect home for MadeWest Brewery?
Seth: Ventura is our home, the city I was born in, and the city we both were raised in. It was really the only city we even considered for MadeWest. At the time when we were writing our business plan and brewing test batches, there was really only one other brewery in the city and we felt Ventura was underserved and in need of another. As of April 2018, Ventura now has a thriving brewery scene with 7 breweries and two more scheduled to open this year.
Insert the full width image below this line.
With your current offering in mind, what's your go-to beer of choice and why?
Mike: My current favorite is our newest IPA release, Jawing.
This hazy IPA is loaded with one of my favorite hops, Mosaic, which gives it ripe and juicy character with notes of peach, mango, and papaya.
Seth: While I almost always choose to drink lagers, my go-to beer of choice is our Pale Ale. It is light enough that I consider it to be a refreshing beer with just enough hop character to make it stand out amongst other Pales in the market.
It's all about the flavor! Where do you seek inspiration from when crafting your beverages?
Mike: I seek inspiration from fellow brewers and trying out new experimental hop varieties.
Do you have plans to expand your offering in the future?
Seth: We are constantly releasing new beers as we never want to get complacent. At any given time, we have 10-14 different beers to choose from.
Insert the full width image below this line.
For someone looking to pay the brewery a visit, what experience can they expect?
Seth: We built the brewery with nothing but experience in mind and, if anything, I think it's what sets us apart from some of the other breweries in town. The 3,000 sq ft taproom is boasting with open space. There's not much frill—just clean lines, simplicity, and a touch of rawness with two 20ft hand-painted murals. A big roll up door opens up to a patio where you get a sweeping view of the Channel Islands and a prime spot to catch golden hour. We host a variety of world-class food trucks 7 days a week and have live music Thursday through Sunday.
There's definitely an energy that can be felt when you walk into the brewery. And maybe it's the inviting aroma of the brewing process, the gleaming industrial steel tanks, or the amazing people we are lucky to call our customers. Regardless, our taproom isn't just another spot to grab a beer, it's a place to meet like-minded beer lovers, bring your family, and be a part of something awesome.
Having years of experience in the business, what advice would you give to someone looking to open their own brewery one day?
Seth: While most focus solely on the beer, I would argue that writing a strong business plan with goals and a solid 5-year plan is just as important as making great beer. We have seen far too many breweries with great beer lack some of the basic business fundamentals to help their brewery thrive.
Describe your personal style.
Mike:  I'd say I'm pretty easy-going, not flashy, and humble.
Seth: My style is largely dictated by the city we live in (Ventura). Ventura is a very casual beach town. It is one of the last few Southern California beach towns where real estate is still somewhat affordable and a great place to raise a family.
You recently had the opportunity to test-drive our CoolMax denim. What do you love most about it?
Seth: I was able to wear a pair of the CoolMax denim jeans on a warm Spring day in Ventura at the beach, then later inside the brewery (which tends to get quite warm). The jeans were extremely comfortable and provided plenty of ventilation. Easily the most comfortable pair of jeans I have ever worn.
Lastly, what makes you feel lucky?
Mike: I feel lucky being alive.
Seth: I feel lucky to have a loving wife, two healthy kids, and a job that hardly ever feels like work.
Enter The CoolMax Shop
Shop Men's New Arrivals
Lucky Insider Home